Chapter 2 THE VETERAN'S FINAL MISSION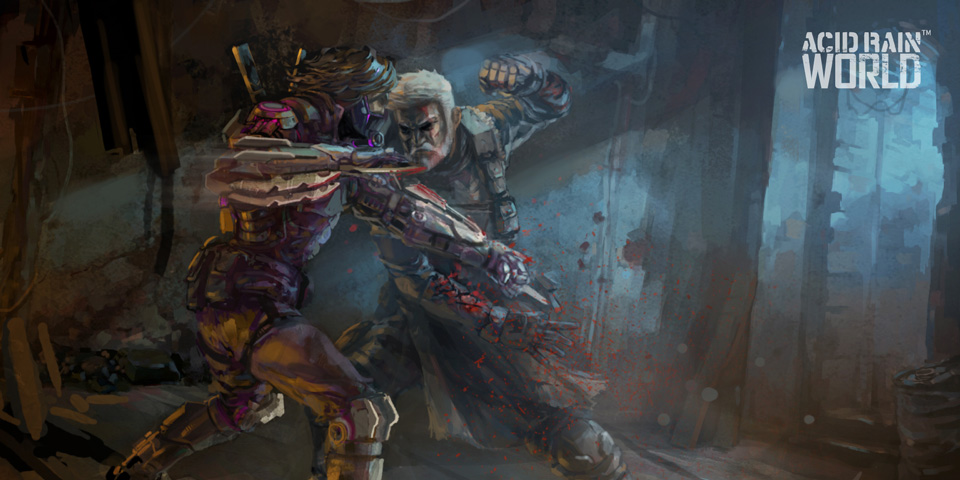 Now that the downpour had finally stopped, water on the rain-soaked road began to seep down, turning the ground into mire. Sergeant Han and Bob headed west, churning the mud in silence.
"Go on, let's see what's inside."
Sergeant Han pointed at a doorway, willing Bob to go first. The old soldier shrugged and strode in.
The three-story structure might have been someone's home at one point, but no rustic wooden table or rocking chair greeted the visitors. Instead, the space was stuffed with beaten-up stretchers and gurneys – witnesses to what had really taken place in the area.
At a certain time in the past, the building had served as a makeshift hospital, a brief shelter for the wounded. In a corner, a pile of broken up furniture, used as firewood when the fuel had run out. On the wall, a line of bullet holes.
Empty bottles lay scattered all over the floor. Over them, rotting bandages spotted with black marks were strewn. Unspeaking traces of the hasty retreat made by the last inhabitants of this room.
The old man bent down to pick up a small bottle, still half filled with some kind of fluid. Tenderly, he wiped away the dust. Saline solution.
Meanwhile, the sergeant was kicking detritus out of his way, raising a cloud of dust.
"What a fucking mess, must have been brutal, right?"
No answer.
"Let's go upstairs."
"Have some pity on my knees." The old man patted his leg.
"We've come all the way here, shouldn't we take a look? I hear the beast is very good at hiding."
Sergeant Han stood behind Bob, holding his gun. The older man had no choice but to climb the stairs.
On the second floor, gurneys lined one side of the hall, making the narrow space so cramped that progress was near impossible. Three small rooms opened on each side of the passageway, their doors shut or half closed. At the far end, the glass panes in the window were surprisingly intact. The blue curtain Bob remembered had long since been taken down – when they ran out of blankets.
Blue.
He was stunned by the vividness of his memory.
"How's it going being back here, Bob?"
Han's voice came through the transceiver as the footsteps behind him retreated.
"Feeling old," Bob muttered to himself.
He paused halfway down the corridor. He didn't turn to check where Han had gone. He knew that he was some distance away already.
"What's it feel like to be a national hero? Must be awesome, eh? Fame and fortune. And then one wrong move. Puff! Everything's gone. God, I can't imagine how much that hurts."
"It was never about the individual. It's about the country."
"Yeah right, old man. Don't give me the grand spiel. At your age, you should be content with your lot. Why mess with people you know you shouldn't mess with?"
Bob made no reply. He took off the gas mask to get a better view of his surroundings, and so that he could hear them better too. The air seemed to have stopped, leaving only a last vestige of cool dampness.
The silence was intense, as if the world had fallen away. Broken only by sniggering from the transceiver.
"But I guess you already knew – the deer season has begun."
"Are you sure you don't want to join us? It's the chance of a lifetime," the old soldier replied without a hint of tension.
"Nah, I'm alright. I'm a realist. I'm happy taking the money without getting into danger. Hunting isn't for me. I'll leave this sort of aristocratic game to the rich."
"You're missing the best part."
At that moment, Bob leaped up and hurled himself towards a nearby stretcher.
Time appeared to slow.
Bullets were sailing through the door on the left, coming straight for where Bob had been standing only milliseconds before. The door on the right tore, as if made of paper. Through it, a squat shadow followed and scuttled, crouching along the hallway. A glint of something sharp caught in the beam of his flashlight.
A pincer assault.
Bob landed on his back. The impact pushed the bed down the corridor, away from the shots aimed at his head.
The bullets smashed into the wall, spraying concrete. The shadow lunged for Bob's legs, but hit air.
The shadow stretched to its full height – a tall, skinny man in a battlesuit, wielding a combat knife. A door opposite crashed wide by a violent kick. A similarly dressed man with a large gun stormed in, protected by a cloud of dust.
Suddenly, the two men collapsed. Both met by a single bullet each. Or at least they should have, but not tonight.
Bob had been given a momentary advantage to take the first shots, but he didn't have any bullets to use. The anesthetic cartridges Han had given him were probably doctored. All he could do was throw the flashlight in his hand.
The beam spun as it flew through the air, illuminating its trajectory in stutters, turning the people and the clutter in the cramped passageway into frames of a stop motion film.
The first image: Bob, hands on the end of the stretcher, flips into a handstand. The flashlight flicks: the gunman's finger pushes the trigger.
Next: Bob flips in a back somersault. The bed frame follows, with a loud clanking.
Half a second later: The man wearing the protective mask swings his straight-backed blade. As long as his forearm, the tip of the hefty weapon dips and curves in a clip point, its spine rugged with sawtooth serrations. The shape is unmistakable. A Bowie. Its sharp edge meeting the flashlight.
Then the final image, just before the light was extinguished. The bed is upright, in the middle of the room. A shield for Bob.  
Black out. The Bowie cut the airborne flashlight in two.
Bullets rang out. There was no need to aim in this narrow corridor. The shots passed through the thin mattress with ease. It was no shield for Bob after all.
It had all happened so fast, but the passageway was once again cloaked in that eerie quiet. In the dark, the two men could hear the drip, drip, drip of blood hitting the floor.
Target eliminated?
The assassins exchanged a glance. The tall man approached cautiously, blade brandished in defense. He shoved the gurney aside.
Glistening liquid pearls were dripping drop by drop, forming a small puddle on the floor.
But it was transparent, not red. Saline solution.
Not blood.
On the windowsill sat a small, cracked flask.
Where's the body?
Where's the target? Where could he have gone?
But they were professionals. They would not succumb to panic. And yet, they couldn't stop the chill spreading in their bones. They knew the tables had turned – they were no longer the hunters, but the prey.
The gunman sensed something and swerved with such quick reflexes that even his attacker admired them. Yet, he was still a fraction-of-a-second too slow. A dark shape fell from the ceiling and landed behind him. Now his gun hand – his right – and his neck were yanked back in a chokehold.
He struggled with all his might, twisting and kicking. But Bob's arms locked onto him, firm and tight like pliers, cutting off his airway and blood flow. Behind the protective mask, color was squeezed out of his face. An ordinary person would be too weak by now to maintain his grasp, but this man still managed to grip his gun tightly. Bob couldn't wrestle free the weapon.
As the two men grappled, the other assassin came to his partner's aid and—
A thrust of a knife!
Bob let go and hopped back. If he hadn't already come across men like these several times before, he wouldn't have moved in time.
It never occurred to the second assassin to help his companion. All he saw was a chance to eliminate his target – at the cost of his teammate's life. Blood sprayed from the gunman's abdomen, and he collapsed in a wail.
Bob snorted in anger. I'd never stoop so low. Never!
As his target retreated, the assassin pushed forward, skipped over his fallen brother-in-arms and thrust the blade again. This weapon was designed to slash open torsos and cut through bones.
But for Bob, these few backward steps were a trap designed to bring his attacker closer. He pushed away the knife, slammed his full weight into the assassin's chest, and delivered a punch to his lower jaw.
The move was guaranteed to concuss.
The assassin dimly registered his arm being twisted, then hoisted up and hurled.
As his face smashed into the floor, he felt a groan escape his mouth. Then he sensed the old soldier stamping on his left wrist. He had to let go of the Bowie, but he could still use his right hand. Grunting, he pulled out a smaller blade and swung it at the old man's leg.  
Bob spun and rolled away. When he was on his feet again, he was holding a gun.
Crack!
The assassin threw the dagger as the gun fired. The blade and the bullet brushed past each other.
The blade buried deep into the wooden door behind Bob.
The bullet burrowed into the assassin's forehead.
"This is retribution. For what you did to the owner of this gun," Bob declared.
The thud of the assassin hitting the floor almost masked a weaker but more deadly tap. An object the size of a fist bounced once before settling on the floor with a strange-sounding clonk. A sound familiar to anyone who had spent time in the special forces.
Bob swore under his breath, spun and sprinted to the end of the passageway. Glass shattered into the night air. The old soldier hurled himself through the window.
A deafening boom rushed after him. A ball of flame exploded from the building and lit up the surroundings.
Bob touched down in a roll to soften the force of his fall. He was quickly back on his feet and in a frown.
Half of his body was numb from the pain in his knee.
Time is unforgiving . . .
He prayed the commotion wouldn't draw the young rookies over. This was a private soirée organized just for him. Any gatecrashers would have to pay with their lives.
Now the welcome party lurking outside rushed forward and closed around him like a net, making sure the old man wouldn't be allowed a breather. Rifles, light machine guns, semi-automatic handguns and other firearms sent forth a curtain of bullets of every caliber and from every direction. Spent shells clattered like rain around him.
Yet something incredible was happening.
There should not have been any blind spot in this chorus of gunshots, but the gray-haired old man managed to evade each and every lethal projectile with precision. The target, clearly past his prime, slipped between the torrent of bullets like an insect darting through the rain that somehow managed to stay dry.
Not only that, each time the old soldier pulled his trigger, the choir lost a member. They slumped to the ground, all because of one small, bleeding wound.
Each of these gunmen were assassins who had survived all kinds of adverse situations in their hunt for famous people, politicians, warlords, and, sometimes, even their own kind. Yet none of them had ever met a prey like this, who could fight back with such finesse. It was as if, as if . . .
We're the prey.
As the thought flashed across the mind of one of the light machine gunners, he caught Bob's eye. Just then, he realized his neighbor had long fallen, and a warm liquid was oozing from his own skull.
My brain's still conscious, even after being hit?
And then, this man, this killer, who had taken more lives than he could count, fell dead. Gone forever from this world.
Bob at last was given a time out. He was panting. No more bullets. No enemies still standing.
No. One more.
He turned and fired.
Ka!
His gun had run out of bullets. He tossed the weapon away.
His opponent carried no firearm either. He strolled straight at Bob without a care, until he filled the old man's sight.
"You've just taken out our whole team of elite assassins, single-handedly. Not rusty yet, it seems."
This man was wearing an unusual skin-tight tactical suit. His respirator only covered his mouth and nose, revealing a head of closely-cropped black hair and a pair of cruel eyes.
"Truly an honor, Commander 'Bob'. I've long admired the Bucks Team."
In the twilight before the sun rose, the man's sculpted body stood erect among the ruins of the abandoned street like a work of art. His toned muscles collectively formed the ideal body of a supreme warrior.  
"I don't usually introduce myself to my target, but I'd make an exception for you. Call me Sandbur."
He threw his arms wide to the sound of swords unsheathing. Countless small blades protruded from the metal armor on his arms and legs. Each as long and wide as a finger. The edges serrated like inverted hooks.
Armor or cybernetic prosthesis? Bob squinted as he appraised his new opponent. Clearly seasoned in close quarters combat. He cleared his throat and wiped away the sweat on his brow.
"I'll cut the buck's head off and hang it on my wall." Sandbur pointed into Bob's face. "That's a prize worth showing off."
"What's there to brag about in killing an old soldier? Haven't you got anything better to do, hedgehog?"
Sandbur cackled, "If you are just a simple old man, then I'm a hermit!" He planted one foot forward and sank slightly, one arm extended and the other pulled back.
"Cut the crap! Show me what Bob is made of!"
Sandbur did not pull out any weapon. He simply curled his fingers in a provocative beckon.
So I was right, a CQC expert. Bob lowered his stance and shifted his weight to ready himself. I'm warmed up now, at least.
*
"Fucking morons! Didn't I say no explosives?"
Han looked grudgingly back at the building he had just left, the boom still ringing in his ears.
Setting off a grenade? What if my rookies come looking? What if it attracts the other squads? That'll land me in a fine mess!
Han always knew that this was a troublesome business. But since he had taken the money, he'd better deliver. At least deliver enough so he wouldn't have to pay the price personally. Or else, it would be a very bad deal.
"Bastards! Call yourself pros?" he grumbled through gritted teeth. "Can't you just do your job quietly? Dragging me into this shit! Fuck!" He turned reluctantly back to face the site of explosion.
*
The punch hurtled precisely into a gap in Bob's defense. The older man dodged, turned and grappled with the assassin's shoulder, weakening the strike in one nimble, fluid movement.
Beautiful! He's not like all the other imposters I've fought. Such a shame –
Sandbur let his weight fall back and the blades on his arm slid through the flesh of Bob's hand.
Blood drew lines across the air, tracing Bob's hasty withdrawal. Sandbur's eyes gleamed with satisfaction. If the old soldier had reacted a fraction slower, the hooked edge of the blade would not only have cut his skin open but torn out chunks of flesh.
The assassin rolled on his back and bounced up, his body supple as a cat's. Bob had never seen prosthetics like that before.
It must be armor . . . unless it's a prototype so new that even I don't know about it. If it's pure flesh and blood under that metal shell, then his explosive strength is among the strongest I've ever known.
With that conclusion, Bob tore off the strips of tattered fabric twined around his arm.
Only a handful of moves were exchanged, but the old man was already pricked and scored all over by the bladed armor. His aging body was weeping red.
When the midnight summon had come, Bob had known he would end up in a situation like this. That was why he ran off to hide that thing. Even though he was wearing the standard issue uniform of a common soldier on the outside, underneath he was clad in the tactical base layer the Bucks Team had created for their special forces. The ultra-strengthened fiber offered much more protection than the fabric of standard uniforms, yet his skin had still been cut and sliced open.
Those blades must be made of high quality carbon steel.
Over the years, technology had developed at a breakneck speed due to the ongoing arms race. As killing machines became increasingly precise and effective, protective gear also improved accordingly.
As a senator, Bob had always advocated for the advancement of standard army-issued equipment.
The army is like the country. It isn't made up of just a small handful of people in power. Its smooth running relies on the support of the common people – the people without power. If we forget this fact, then we will never be able to lead the country to a prosperous future . . .
A discarded old soldier. That was who he was now. There was no point in thinking these thoughts. It was hot air nobody wanted to hear. No wonder even Dr. William used to tease him back then for being too into playing the senator.
Bob collected himself, and stepped back to maintain distance. He seemed to be flagging. His strides growing heavy.
"Too late to run now, old man!"
Sandbur stepped up with a sneer and lunged. In a blink, he was right in Bob's face.  
The old soldier could only defend himself passively. All the CQC techniques he knew were rendered useless by the blades on his opponent's limbs. He even had to give up the few chances to strike back, since any countermove would require getting tangled up with the assassin. And the attacker knew very well how to cause maximum damage with his armor.
However, evading such an aggressor was no less tiring. Bob was now increasingly bloodied. The gashes crisscrossing his body drained him of both blood and energy. His motion and response were slowing. His limbs could not answer as fast as required to his will's command. An old machine with rusty bearing.
He was old. He had to admit it.
Sandbur at last found the opening he was waiting for as Bob twisted awkwardly to avoid being cut in the throat. The assassin hooked his foot around Bob's calf, tipping the old soldier's balance. At the same time, he thrust his elbow into the old man's chest.
Gravity pulled Bob's leg across Sandbur's blades. Jets of blood shot from his flesh.
Bob crashed into the ground, letting out a dull grunt. He could hear the screams of his worn-out spine. His bones hurt more than the gushing red gulf on his leg.
Sandbur leaped onto Bob and sat astride his chest, his hands wrapped around the old soldier's neck.
"I'm going to squeeze until your eyes and tongue pop out. That'll make your head look even better on my wall!"
The assassin tightened his grip. His eyes glinted with the smirk of a victor. He took great pleasure in using suffocation against his targets.
It's so much more textured and hands-on than using a knife or firing a gun. I get to look into their eyes. Watch them descend from fear to despair, then tip over the edge and into death.
Oh, the ecstasy!
Bob could sense the assassin's sick thoughts and see the twisted smile beneath the mask. How he longed to wipe it off with a punch. But, just then, Sandbur yanked his head up and smashed it on the ground. The old man could hear the disturbing crunch of his skull.
"Come on! Is this it? Is that all you've got, Bob?"
Thump!
"Is this the Great Commander of the Bucks Team?"
Thump!
"The Hero of Zamaii? The Guardian of Agurts? Huh?"
Thump!
"You're just an ordinary man. You've grown old. Feeble. Nothing you've done matters. You can't change this world!"
He smacked the head onto the ground once more. Bob could feel his mind turning fuzzy and his vision disintegrating into a blur.
"You and I are the same. Soldier. And killer. A hero? Ha!"
Sandbur throttled Bob so hard that he could almost snap the old man's neck with his bare hands.
No matter how hard he tried, Bob couldn't wrench Sandbur's hands away. Not when the forearms holding him down were covered with blades. He clawed higher up, but it was impossible to get a good grip.
Pop!
Sandbur screamed.
The old man had pulled the assassin's fourth finger into a most unnatural angle.
The moment Sandbur let go, Bob thrust his knee into the assassin's gut, using every drop of energy left in his body to kick him away.
Sandbur hadn't been expecting such strength and took the brunt of the attack in his midriff. Flipping into a roll, he backed off.
Bob clambered onto his feet and lowered into a defensive stance once more. His mouth gulping the stinking, suffocating air. His lungs hungry for oxygen.
"Impressive! But you've lost already, why won't you let me have some fun?"
Sandbur kept his eyes locked on Bob as he bent his finger back into joint without even a wince.
This white-haired old man can't even stand firm on his feet, he noted with delight.
"You're wrong," Bob coughed then inhaled deeply. His voice gained a sense of certainty. "Everything we have done in the past is shaping this world."
"Only evil shapes this world. War. And nukes." Sandbur's eyes glazed over as he grunted his conclusion.
So, he too is shaped by evil, Bob sighed inside. "You can't kill me."
"You sure? Let's find out."
Sniggering, Sandbur swung his fist at his dying prey.
However strong Bob might have been, the man had already spent more than half a century in this world. If he had been the same age as Sandbur, perhaps the assassin would not be so confident about coming out on top.
But right now, the old man's death could not be more certain. He barely had any strength left and he had lost a lot of blood.
This would be the final blow.
Bob tightened his jaw and faced the onslaught head on. He adopted the most basic blocking stance against Sandbur's attack.
He is going to throw himself onto my blades! Even the seasoned assassin was taken aback.
Bob's arm sank deep into the spikes. But that did not stop him. He grabbed at Sandbur's wrist and shoulder as if he could not feel a thing. He let the blades gorge out large patches of skin.
Sandbur was certain that even tendons would have been severed by now.
Does he want to die?
Just as the thought flashed through his mind, Sandbur realized he could no longer pull back his right arm – the serrated edges of his armored blades had lodged so deeply into Bob.
It was only then that he understood his target's intention, but it was too late.
Bob twisted round to Sandbur's side. His mutilated arm dragged the armored arm over its shoulder.
Sandbur watched the blades of his own armor slice across his neck.
"You might have surrendered yourself to this world . . . but I haven't given up the fight!"
The gurgle of blood answered for Sandbur, gushing and bubbling from the gap in his throat. It was a curious sound.
The two men crumpled together.
Several minutes later, Bob climbed slowly onto his feet. He was wounded from head to toe, his right arm so mangled that he could barely will it to move. But other than losing blood, Sandbur hadn't managed to maim him.
I've suffered worse. Bob let out a wry smile. But this is bad enough. If I were ten years younger, I'd have dispatched him in three minutes.
Bob knew he could no longer deny that his strength or stamina could not compete with the younger man. Accepting the fact, the old soldier let his enemy see his tiredness, his weakness, thus luring him into his trap. If Sandbur had been able to control his pride in combat and his eagerness to win, he could have worn Bob down and lived to see another day.
The old body is still hanging on.
Bob pulled out the individual first aid kit fielded to every soldier. The rudimentary blood-clotting device supplied made him shake his head with a grimace. Fortunately, despite the rush earlier that night, he had managed to bring the hemostatic gel developed by the Bucks Team.
Our soldiers give their lives to protect the precious fields and crops of our country, the old soldier thought as he dressed his wounds. Our state should treat these young men better and equip them properly!
He managed to stop most of the bleeding with the gel and quickly bandaged himself. Then he began to hobble back to the meeting point, knowing that it wasn't over yet.
What should I do with Sergeant Han? Bob asked himself. Of course he won't take me back to camp safely for treatment. But there's no point capturing him and trying to make him speak. He's just an ignorant pawn in the whole conspiracy . . .
An almost inaudible whimper interrupted him. It came from beyond the stump of a wall by the road.
Was that a cry for help?
Bob stopped to listen. It was very quiet, but what he heard was unmistakable.
His limbs felt cold and numb from the loss of blood. He needed urgent medical attention. But however suspicious he might have been, he couldn't ignore such a cry.
Bob turned and headed to the source of the noise.
Under a window half blown-off by mortar fire was a woman. Her arms were tied to the rusty window frame. Her body sagged weakly on the ground. The clothes on her body were torn and slashed into tatters. Her body was marked by dozens of gashes, still oozing blood.
Even though the outskirts of Zamaii were abandoned long ago, the unbearable sight in front of him was still known to occur from time to time. Or maybe Bob had just seen too much in his life.
Outside the Capital and the big cities, women lived under constant and very real threats. Agurts was already one of the safer countries, but when daughters disappeared, everyone knew what had probably happened.
Yes, even here. Zamaii. A restricted area by the border.
Women still vanished.
Did the assassins use her for their amusement just now? That would explain the cuts. Maybe they left her here as a "prize" for when they had completed the mission?
Bob hesitated for a moment, then limped over.
The woman wore no gas mask. Her mess of blond hair shielded her features, but he could tell that she was a beautiful young woman in her twenties.
Her body shivered like that of a frightened animal. Her eyes implored the old soldier. Blue they were, swollen and stained with tears. One look into them would break any heart.
"Please . . . don't . . ." Her voice was hoarse and weak, as if she didn't even have the strength to cry.
"Don't worry, I'll help you."
Bob moved closer and cut the ropes that bound her with a blade taken from the assassin's armor. He had pulled it out from his mutilated arm and kept it just in case. He never expected it to come in useful so quickly.
The woman flopped into Bob's arms.
"C'mon, let's get out of— "
Bob felt the muscles in his chest tighten and he immediately shoved the woman away from him. She backed off slowly, pulling out the switchblade she kept hidden in her hand. Blood sprayed over her face and her tattered clothes, dyeing her blonde hair red. With her alluring smile, she was monstrously beautiful.
"You know, I asked myself just now . . . If you free me, should I let you live?"
Her voice wasn't hoarse or weak anymore. She closed the flick knife as she straightened herself gracefully. The gashes on her body did not seem to bother her at all.
"But you're all the same. You're a soldier. You're one of them."
Bob pressed the gushing wound in his chest. His body slumped heavily onto the ground. The woman looked down, pulled back her hair and appraised the old soldier, her head tilted.
"However, I do respect you. You're an opponent that can only be subdued with the most unscrupulous means. I haven't done this for many years, letting my prey see my face."
She touched her bleeding wounds tenderly.
"You think I faked this? No. They're real. My injuries, my tears, my despair. All of them are real. Some time ago. Someplace else. They did exist. So, you should be pleased. Because, in a certain way, you haven't been tricked at all."
Bob's chest grew fiery hot as if it was about to explode, but the rest of him remained icy cold. His heart had already stopped two or three times over the course of his life. But each time, he had been pulled back from the brink by his comrades. But he knew, this time, the reliable old fellow in his chest wouldn't answer the call of his will and start itself again.
The excruciating pain was easing, but Bob had yet to complete his mission.
"Why? Why wasn't there anyone like you back then . . . then, maybe, everything would be different," the woman muttered then laughed.
Bob could no longer command his body. Her beautiful but forlorn face was mirrored in his glassy eyes. What a joke! He, of all people, fell for such a shallow trap.
And yet, he had no regrets. Her words only reinforced his certainty. He would have done the same if he were given another chance.
Because, it is right thing to do.
Only, he was too late. He couldn't stop this world from turning this woman into a monster.
"Sir, listen to the cheers of the Zamaii people. Don't beat yourself up."
"Sir, let us handle what comes next."
"We're the Bucks, we're your team."
"Sir, wait for our good news!"
His senses were now faltering. Yet, curiously, he could also hear the voices of his old comrades, he could see their faces.
Perhaps this is it. Death.
"What are you fighting for?"
". . . a cup of coffee brewed from beans that I grow myself."
Bob recalled the question that the young conscript had asked him in the bar the other day. Somehow it brought about that bitter taste to his mouth, with just a hint of sweetness. It felt so real. He was almost certain that he had had a mug of coffee in his hand, gazing over a large, lush field. Clusters of coffee beans hung from the trees, painted gold by the sunset. Aldaman was next to him. They were drinking freshly-brewed coffee and talking about the future that would befall Agurts.
The future . . .
The woman watched the old man's quivering lips. She thought she saw him slowly mouth the words "is yours".
And so the old soldier finally retired from battle.
Original Story : Kit Lau
Author : Perl Grey
Translator : Gigi Chang and Anna Holmwood